General Details
BM70 BM71 
The BM70/BM71 BLE module is designed for Appenabled accessories and IoT (Internet of Things) through Bluetooth® connectivity.
It is available in the 2.4GHz ISM band radio, compatible with Bluetooth Core Specification Version 4.2 to enhance the throughputs and security for IoT applications.
For improving user experiences for IoT applications, the patent and trademark for Beacon Things Technology is applied to let users can control automatically and receive data to cloud without open App through iPhone.
The module build-in Bluetooth® stacks to be embedded Bluetooth® LE solution, so developer can save time to finish their design without taking efforts to care Bluetooth® issue. In addition, it narrows down the module size and minimizes its cost. For portable and wearable applications, the product optimized power design to minimize current consumption to extend battery life.

Applications
• IoT/ IoE
• Payment/ Security
• Wearable devices
• Smart Home
• Smart Health
• Apple iBeacon
• Digital Sports
• Proximity/ Find Me
 Main features: 
Bluetooth® Smart 4.2 BLE compliant




• 1.9V~3.6V operating range




• UART/ I2C/ SPI interface supported




• 4 x PWM supported(BM70)




• Temperature range (-20~70)




• Main Crystal : 32MHz




• Temperature sensor supported




• 12 bits ADC supported for 6CH(BM70)




/4CH(BM71) input ports and battery voltage




detection




• Wake up by any GPIO




• Peak current: TX 13mA/RX 13mA with Buck,@




VBAT=3.0V




• RSSI Monitor
Technological details
BM70 BM71 BLOCK DIAGRAM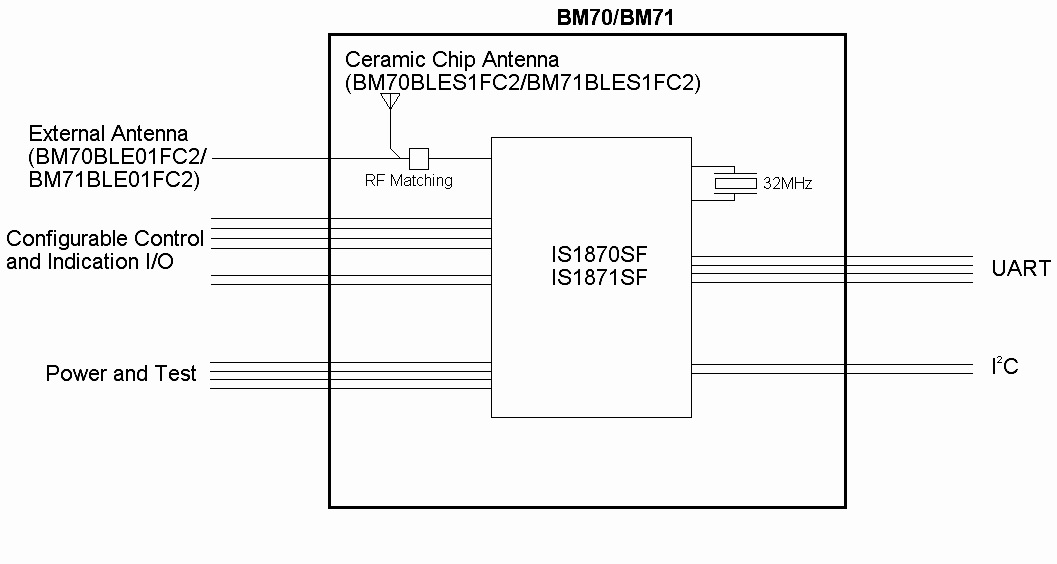 BM70 BM71 PIN DIAGRAM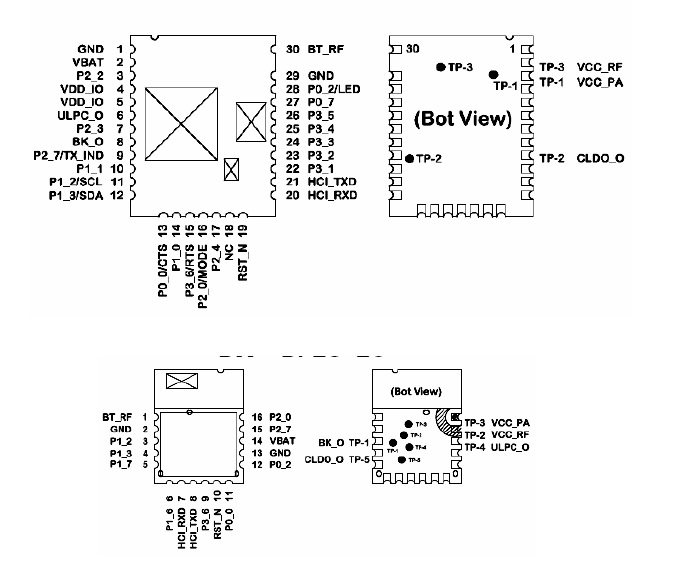 BM70 BM71 TO MCU INTERFACE EXAMPLE 3.3V LDO